Steve Ray Archives Vol VII - 'Adventure-Time Presents – Marceline And The Scream Queens' Review
MATHEMATICAL, MUSICAL VAMPIRE MADNESS!
Sunday, November 10, 2013 at 4:35PM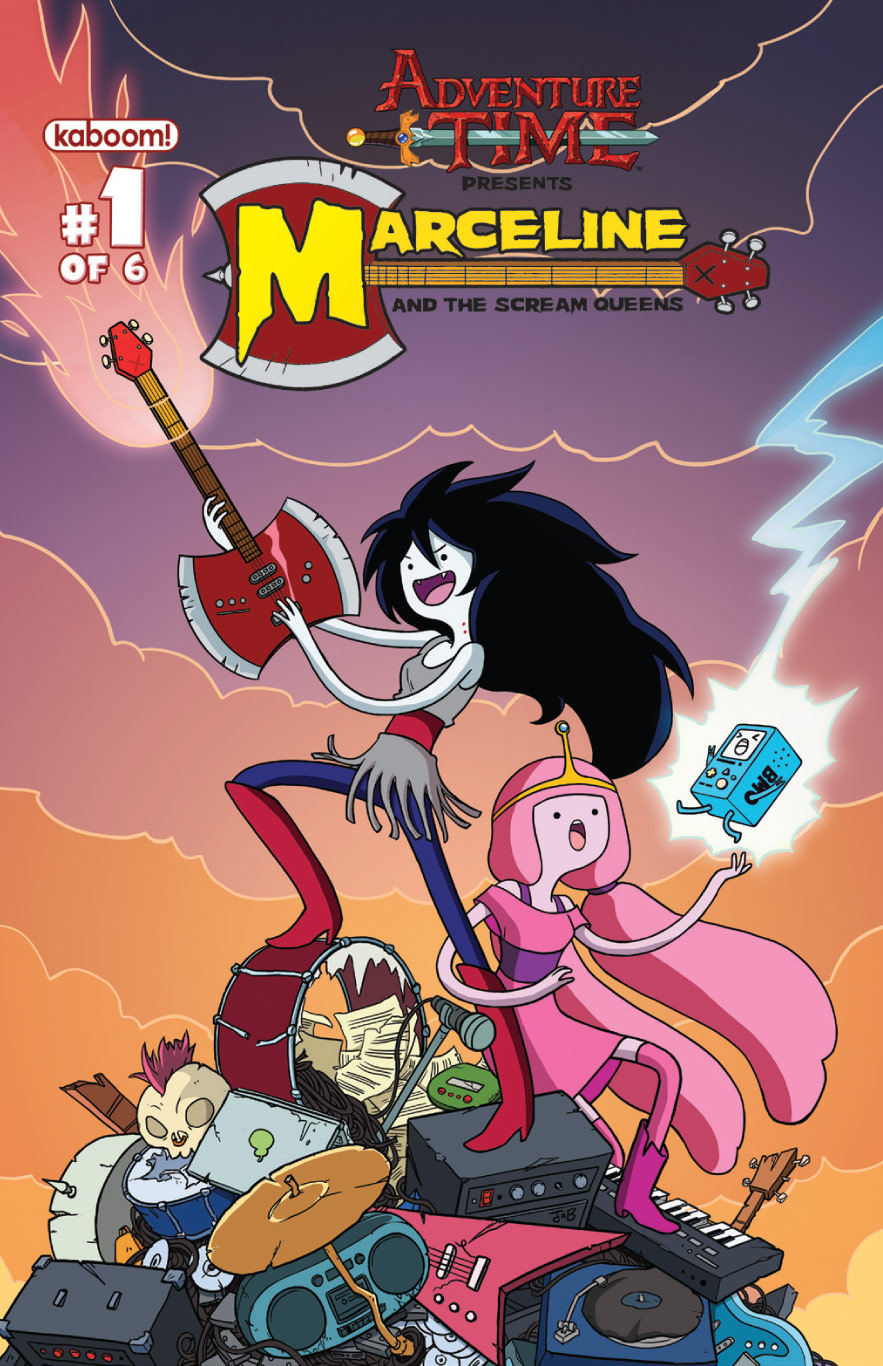 Hello again to Ooovians old and new, welcome to the show! Today we are proud to present to you, as part of their worlds tour; the scary, the spooky and the downright kooky:
Marceline and The Scream Queens!
This is the third collection of the immensely addictive KaBoom! Studios Adventure Timecomics. This volume brings together the complete Marceline mini-series issues 1-6.
Regular readers may well have stumbled across my previous missives on Adventure Time. I have had the joy and privilege of being given three previous Titan collections of the comic series and have become a fully fledged Ooovian of totally mathematical proportions.
Whereas the previous volumes have centred mostly on the main cast of Finn, Jake and Princess Bubblegum, with appearances by mainstay baddies the Ice King (he's naughty) and the Lich (he's gross) the Adventure Times universe contains many other characters who more than deserve their time in the sun. Marceline is one of those characters, though perhaps time in the spotlight would be more agreeable to someone of her, um... nature.
Marceline, you see, is a vampire.
I adore her. She is the bass player and lead guitarist of her band and can by turns be mysterious, terrifying, hilarious, deep, moody, fragile and powerful. Now that's a lot of personality for someone who is, after all, a cartoon character. One of the real joys about the entire cast of these weird and whacky adventures is that they may well be two dimensional drawings but are totally three dimensional characters. More so even than many that I have read about or seen in other media.
This book sees her and her band The Scream Queens embark on a world tour of the post apocalyptic Earth now known as the mystical land of Ooo. Along with her on her travels are Princess Bubblegum – Tour Manager, Keila – fellow vampire and lead guitarist, Bongo – the ghost of a very famous rock drummer (hilarious) and Guy – a keyboard playing guy... Or is he?
This book is not as bonkers as the previous volumes, though this is not a negative. Believe me when I say that it's still several degrees and a couple of par-secs due south of anything deemed sane. Craziness still abounds in this book but, however nutty the situations and the characters, they are still more relatable, real and human than some – so called – real people that I actually know and deal with on a daily basis.
This book conveys life on the road, being a musician and the trials and tribulations of such a lifestyle in ways I have only seen paralleled in the wonderful This Is Spinal Tap (especially the whole drummer scenario). Marceline is like a cross between Jim Morrison and John Lennon. She's clearly a musical genius but the rest of her existence is a mystery and a mess. Add to all this the fact that she's a vampire; light the fuse, step back and let the fireworks commence.
The fact that the main story in this volume is both written and drawn by one person is a plus. Meredith Gran really gets these characters and the relationship between the two female lead characters – Marceline and Princess B – is a great expansion on how the characters behave in the main animated series. This is a huge plus for fans of the show and those of us lucky enough to also have read the comics, though it will still be hugely satisfying to those who know nothing of these characters.
The amazing thing Meredith has done in this book and Ryan North did with the main series, is create a world that is totally accessible to readers who have never seen an episode of the animated series or even read any of the previous books. They have done this by writing real and believable characters and personalities into the bodies of stretchy dogs, vampire rock stars, last humans and a guy called Guy... Or is he? I became a fan of the cartoon after reading the comics, so I am living proof that anyone else can too.
It's hard for me to find negatives in these books because after reading any and all of them I feel so content. While the story being written and drawn by one person makes it a little more cohesive, I feel that Meredith Gran's writing is stronger than her drawing. Don't get me wrong, her art is still totally brilliant, it just isn't quite as accurate to the series and that of Shelli Parline, Braden Lamb and Mike Holmes in the previous books.
That's about the only criticism I can make.
This book can definitely take pride of place on my bookshelf with the other Adventure Times volumes and is a worthy addition to any comic collection. I heartily recommend this book and the great musical adventures of Marceline, Bubblegum and that guy called Guy... Or is he?
So, dear friends if music be the food of love keep away from bass playing vampire rock stars.
Steve Ray has left the building.