Review: Batman Beyond #13
"Gotham Games"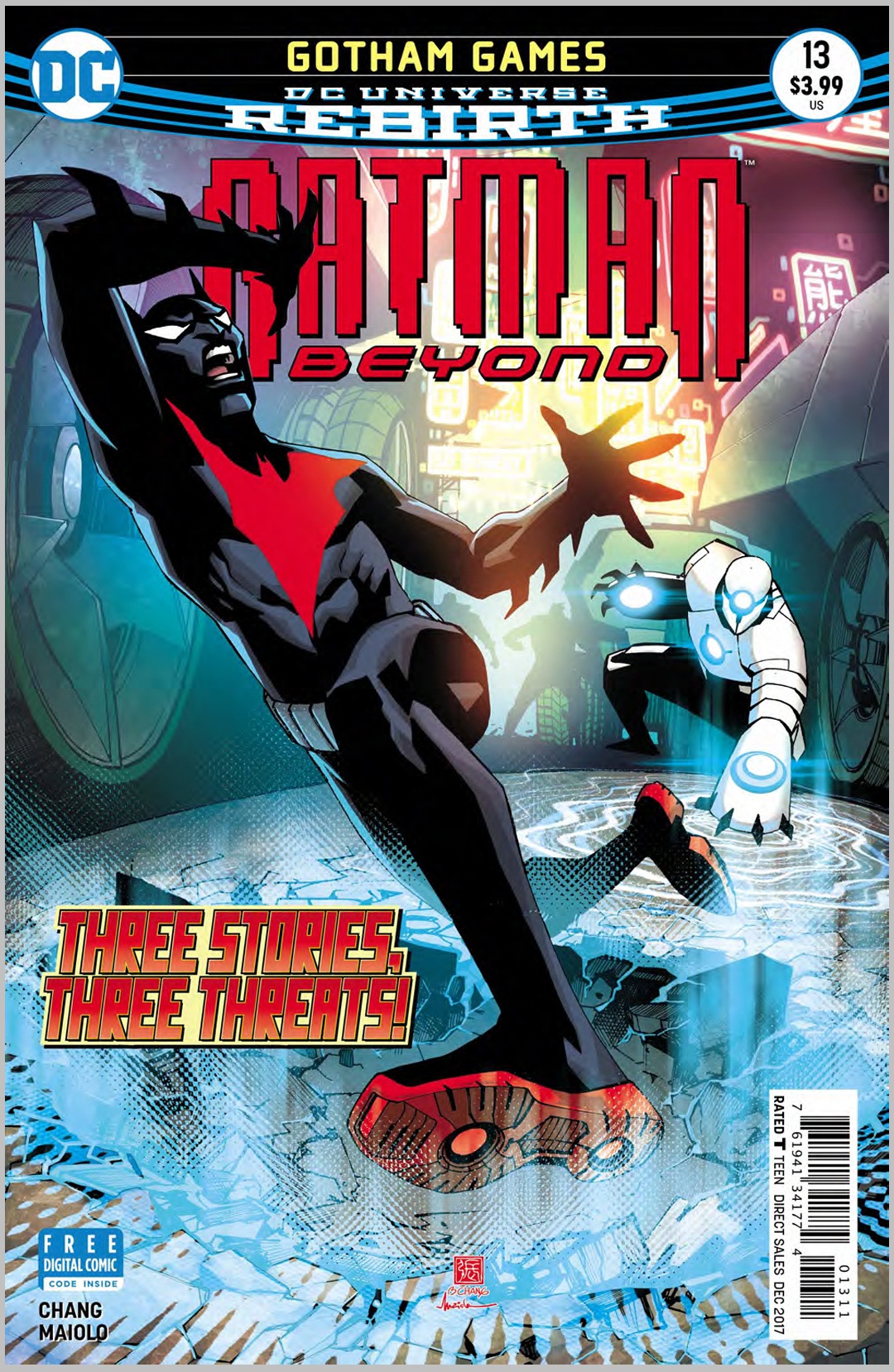 Writer/Artist: Bernard Chang
Review by Steve J. Ray

This issue gives us a flashback tale with a difference. I've never made it a secret as to how big a fan I am of the beautiful art of Bernard Chang. Batman Beyond #13 "Gotham Games" highlights his writing talents too! Is there anything this man's not good at?
The story sees the recently returned Terry McGinnis battle his old enemy Shriek, and a new antagonist Hacker, while all he wants to do is catch his brother's Tri-Ball game!
I thoroughly enjoyed this issue, it was great fun. Mr. Chang has very cleverly structured the tale, so that it can be read in a number of different ways. Apart from the splash pages, each page is split horizontally into three, with each strip furthering a different side of the story. I first read the book as a single comic, before going back and re-reading each strip separately. The cool thing is, both ways work!
The top third tells us Batman's adventure. The middle tier gives us the citizens of Gotham preparing for, and partaking in the Gotham Games. The final portion is a real revelation. In this part of the comic, we get a retelling of Shriek's origin, we learn the history of The Hacker, and we recap the beginnings of femme fatale Freon.
While I love an origin story, getting three in one issue could have proven to be a few too many. Not so, with Bernard Chang's novel approach. Rather than give us massive pieces of exposition in huge, captions and dialogue balloons, Mr. Chang has artistically, and with very few words indeed, given us the three stories in a brand new way. Bravo!
Gotham Games
Without giving too much away, Batman makes amends with an old enemy, and makes a new friend… but does he make it to the Gotham Games in time?

The art this issue, surprise surprise, is absolutely brilliant. Bernard not only wrote a winner, but he pencilled and inked 20 terrific, action packed pages too. His splash pages are all poster quality, and his quiet, wordless scenes are just gorgeous. The color art of the wonderful Marcelo Maiolo aren't just special effects, oh no! His color palette over the three strips is varied, subtly telling us a different story in each one. Wonderful work.
Many readers know that Bernard is leaving Batman Beyond, and moving on to Nightwing. I sincerely hope that Marcelo moves with him, as this team truly is a great one.
Conclusion
While big changes are coming on this title, this issue delivers the great quality that I have come to love and to expect. The experimental writing technique, combined with some quality visuals mean that I have to award the issue a well deserved:

Images Courtesy Of DC Entertainment

(This review first appeared on the Dark Knight News website on October 27th 2017)