Review: Suicide Squad Black Files #4
"My Own Worst Enemy" and "Rota Fortuna" – Part Four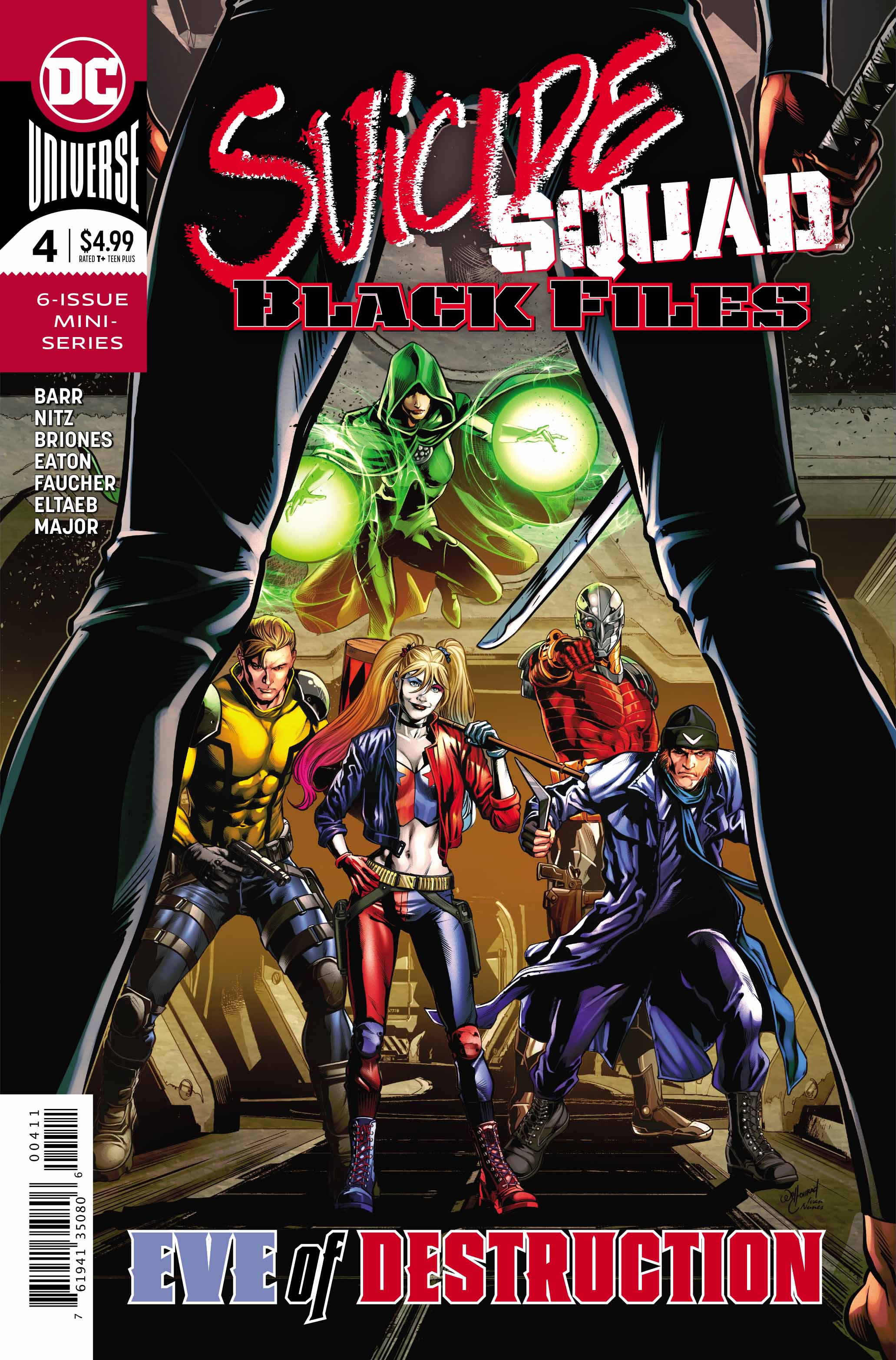 Writers: Jai Nitz & Mike Barr
Artists: Phillipe Briones, Scot Eaton & Wayne Faucher
Color Artists: Gabe Eltaeb & Guy Major
Letterer: Dave Sharpe
Review by Sam McTernan
We have reached the latter half of this mini series. Issue 4 really ramps up the action in two brilliant and unique stories. One of the great aspects of this series is the way it mixes more traditional Suicide Squad characters with newer and less known ones. It manages this brilliantly. We see the original Squad deal with two very different situations; the impostor Katana and the repercussions on Gem World. It's a pretty intense read and its certainly the most engaging issue yet.
My Own Worst Enemy
This storyline is great, The concept of characters switching bodies isn't a new one, but the team bring a freshness to it. Once you throw in a famously un-trusting team of trained criminal killers and the naivety of Halo, it makes you think that it's an entirely new concept. The way that the comic highlights both Eve and Katana's transition is excellent. We see the villain subjected to some pretty horrific testing at the hands of King Kobra, Whilst Katana has to utilise her famed skills in a new body, in a great scene with Killer Croc and others. The action scenes are very well drawn and keep up with the fast paced writing.
Rota Fortuna
With the fate of Suicide Squad Black still unknown, we see the main team sent in to deal with the mess. This issue really continues to highlight how clever Faust is and just how well prepared. How he handles both squads is genius and expertly written. It's also left us with a very interesting twist and what I think will lead to a really fun final two issues. Without giving anything away, we're going to see both squads collide beautifully. This will no doubt be a must read for any Suicide Squad fans.
Conclusion
I loved this issue. The art flowed well between the two stories, the writing was on par with the action. The only issue I would have is that this the first time that both story line's has been about the main Suicide Squad. Both of which have very clearly placed the squad in positions that mean that events do not take place at a similar time and I think this may confuse many readers. Although that a no point has anyone said that the events in either story do take place concurrently, I think that in the previous issues it felt like they could have. All in all I still think this doesn't detract from a great series and one I cant wait to see how pans out in the last two issues of the arc.
Images Courtesy Of DC Entertainment
(This review was originally published on the Dark Knight News website on February 8th 2019)