Review: Batman Beyond #14
"The Long Payback" Part One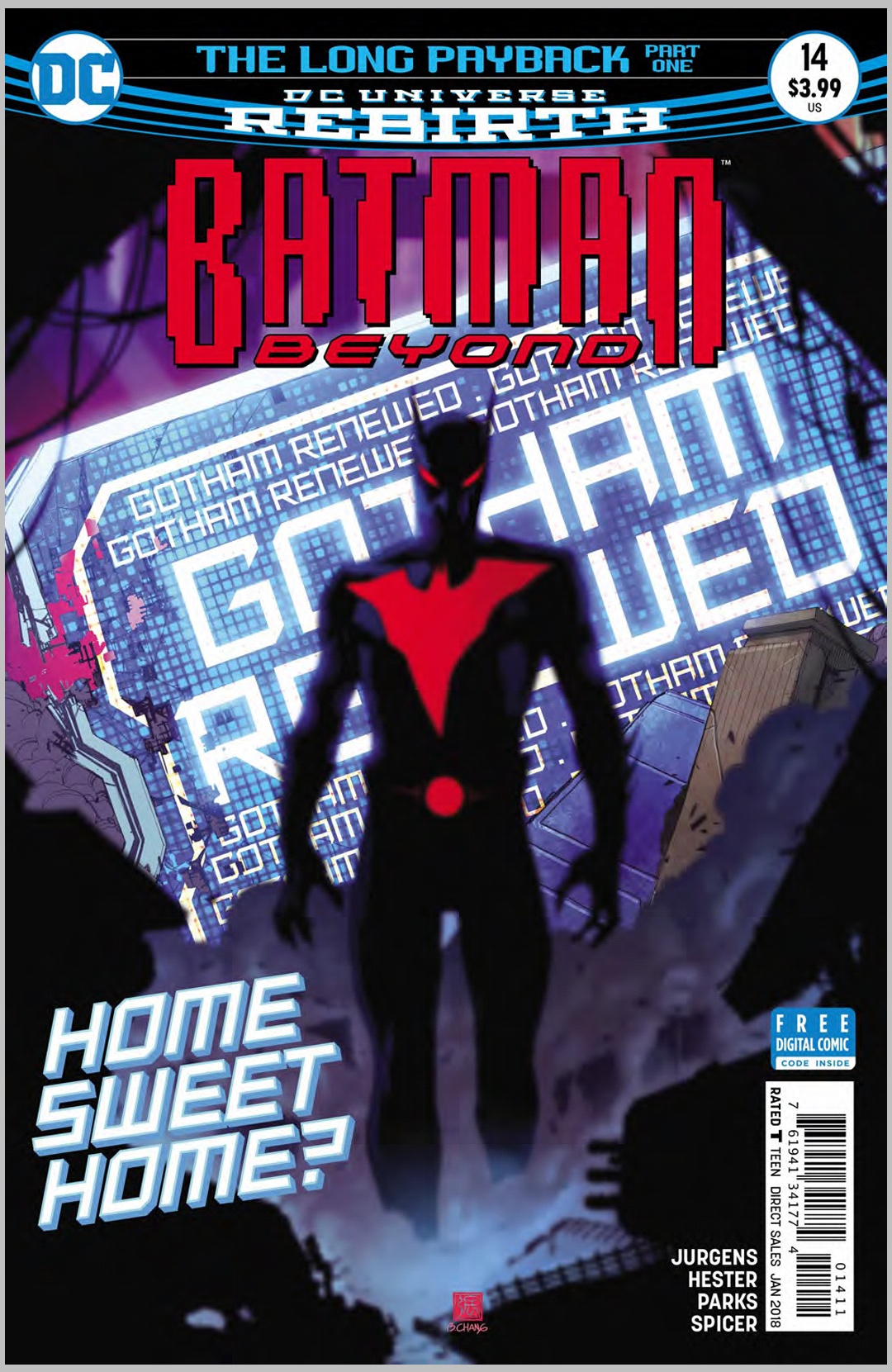 Art: Phil Hester, Ande Parks and Michael Spicer
Review by Steve J. Ray
After a (well deserved) two issue break, comics legend Dan Jurgens is back! The backbone of Batman Beyond over the last three years shows no signs of losing steam. In fact, this issue is as strong as anything that's come before. Part One of "The Long Payback" begins a new chapter in the life of Terry McGinnis, and introduces us to an all-new art team too!
Phillip Hester and Ande Parks are comics veterans, and have produced some truly brilliant work. Their run on Green Arrow was one of my favorite ever on that title. Looking at their work this issue, shows us that their skills are still razor sharp. If any art team proves that less is more, it's this one.
Some artists wow with their detail, others astound with their ability to convey more emotion with one small line, or expression, than others can with all the detail in the world. Like Tim Sale, David Mazzucchelli, Darwyn Cooke and Steve Rude, Phillip Hester and Ande Parks show readers that simple looking art styles are anything but simple.
Beyond Belief
This issue hits the reset button in many ways. After their adventure in the Himalayas; Terry and Bruce are back in Wayne Manor, the prototype Bat-suit has been retired, in favour of the classic original, and Mr. McGinnis reconnects with his brother Matt, and long term girlfriend, Dana Tan.
There's plenty to love in this issue; the return of classic Bat-Baddies, real character growth for Matt McGinnis, and some great action scenes too. A comic that regularly delivers on personality, and gives plenty of bang for your bucks is a joy to experience.
Conclusion
Losing artist Bernard Chang to Nightwing could have been a real body-blow to Batman Beyond. The change in styles between Mr. Chang and the new team of Phil Hester and Ande Parks is inspired, as any comparisons made would be both unfair, and invalid. This issue shows that the future of Batman Beyond is in safe hands, and I'm definitely in, for the long haul.
Images Courtesy Of DC Entertainment.
(This review was originally published on the Dark Knight News website on November 24th 2017)