Review: Nightwing #43
Artists

: Minkyu Jung & Felipe Sobreiro
Summary
"THE NOBLE, THE OBNOXIOUS & THE INEPT." When you find out that this issue guest stars Robin and Arsenal, you'll probably make your own mind up as to which sobriquet is most apt for which character. Once you see things from each hero's perspective however, you may well change your mind. In this issue Nightwing teams up with his kid brother, and one of his best buds. Of course, chaos and hi-jinks ensue.
Positives
Once again we're treated to a nice, self contained story. After the martial arts masterpiece that was Nightwing #42, this issue had quite a lot to live up to. I'm glad to say that it's a fun-filled comic, and serves as a great counterpoint to its predecessor. Last time we saw Dick Grayson as a solo warrior, out to rescue his kid brother. This time it's Nightwing as team leader, mentor, coach, and peace-maker.

There are some really great character moments, and brilliant interactions between the three heroes. Nightwing, as ever, almost has to act like a dad to two unruly kids. Damian is as arrogant, spoiled, and – let's be honest here – as awesome as he ever was. For a twelve(?) year old kid, this guy is a force to be reckoned with! As for Arsenal? Well, Roy's just Roy… let's leave it at that.
Writer Michael Moreci clearly knows these three characters, and shows that he has a soft spot for all of them. His script is action-packed, funny and endearing. There are times when I really expected Damian to go ballistic on Roy, but Nightwing manages, just, to keep the boys in check. Mr. Moreci's respect for Dick Grayson is obvious and, as a fan, I enjoyed his take on this dysfunctional, yet effective, trio.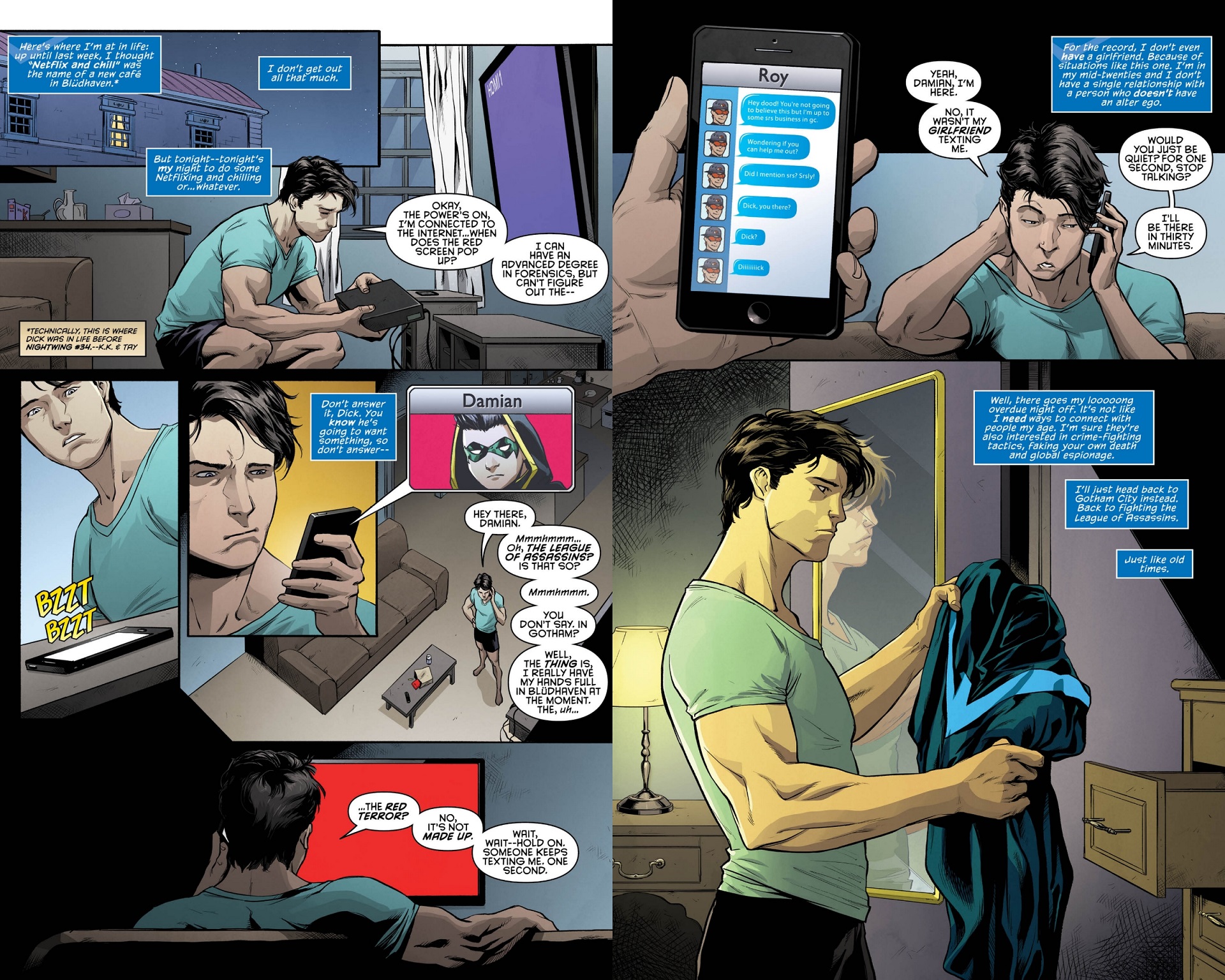 In stark contrast to the dark, gritty art from issue #42, Artist Minkyu Jung's work this issue is smooth, glossy, and polished. This is very accomplished comics art. From his recently woken, tousle haired Dick Grayson in the opening pages, to the action packed ninja wars that follow, Kubert School graduate Jung shows real skill and flair. His art isn't showy, or in your face, but it's crisp, clean and draws the eye.
When coupled with a great colorist like Felipe Sobreiro, Minkyu's art really pops. Sobreiro uses lovely soft blues, and greys for the night scenes, and the way he colors the artificial light in Nightwing's apartment, and the screen of Grayson's smart phone is really well handled. Great work from the whole team.
Negatives
Just like last time, I was just disappointed that we only get one issue with this band of heroes, and this creative team. It's a fact that sometimes these standalone stories are required, but it's a shame that these talented creators don't get a fairer crack of the whip. On the strength of Nightwing #43, I will definitely be on the look out for more books written by Michael Moreci, and for art by Minkyu Jung and Felipe Sobreiro.
Verdict
If you're a fan of fun, fisticuffs and fireworks then this issue is definitely for you. We get a really cool trio of characters (just barely) working together, handled by a creative team who clearly cares about all three of them.
With issues #42 and #43 delivering two tasty starter dishes, readers' appetites have been whetted for the delicious main course that Nightwing #44 promiises to deliver. In two short weeks the new ongoing creative team debuts… and this reader is hungry.
Images Courtesy Of DC Entertainment
(This review was originally published on the DC Comics News website on April 19th 2018)