Review: 'Gotham' Season 5 Episode 1 – "Year Zero"
Starring: Ben McKenzie, Donal Logue, David Mazouz, Sean Pertwee, Robin Lord Taylor, Erin Richards, Camren Bicondova, Cory Michael Smith, Jessica Lucas & Chris Chalk
Review by Steve J. Ray

The moment that fans of Gotham have been waiting for (and dreading in equal measure) has arrived. The final season of the show is here, and if the rest of the series is of a similar quality to the opening episode, then we're all for a treat. It's Year Zero in Gotham City.
Season four ended with a bang… quite literally. The machinations of Ra's Al Ghul and Jeremiah Valeska led to the government abandoning Gotham City, blowing up the bridges and tunnels, and leaving the citizens of Gotham cut off from the mainland.
No Man's Land
I decided to re-watch the pilot episode before embarking upon the swan-song season of this hugely underrated series… and I'm glad that I did. Danny Cannon directed both episodes, and the parallels between the two – as well as the differences – helped highlight what I love about this show. Sadly though, they also reminded me of everything I'm going to miss.
Gotham has always been the "Red headed step-child" of the DC Comics based T.V. shows. For some reason it has always divided audiences; even die-hard Bat-fans either love it or hate it. After watching the pilot again I can see some of the reasons why. The show works best grounded in reality, far more than any of the CW shows, even the "Grim and gritty" Arrow.
Seasons two and three of Gotham crept into the realms of super-science/supernatural, which worked for some viewers, but further alienated others. More recently, particularly in season four, the show stepped back into a more realistic world where the writers drew from the source material for inspiration. This year follows suit, and this opening episode epitomises everything that's great about this series.
A City At War… With Itself
There is a jump in time between the season four finale and this chapter. Over three months the city has been chopped into territories run by several gangs, with one district held by Jim Gordon and the GCPD. Fans of the original "No Man's Land" mega-crossover (which ran through all the bat titles between 1998 and 2000) will find all this very familiar… apart from the fact that it's all completely different.
Gotham's writing team have cleverly taken this event and melded it with Scott Snyder's "Zero Year" from Batman issues 21-27 and 29-33 (2013 and 2014). In the comics "No Man's Land" featured an experienced Batman in hostile territory, while the "Zero Year" showed us the Caped Crusader at the beginning of his crime fighting career. These elements mesh beautifully with a young Bruce Wayne and Captain James Gordon trying to stop their city from eating itself alive.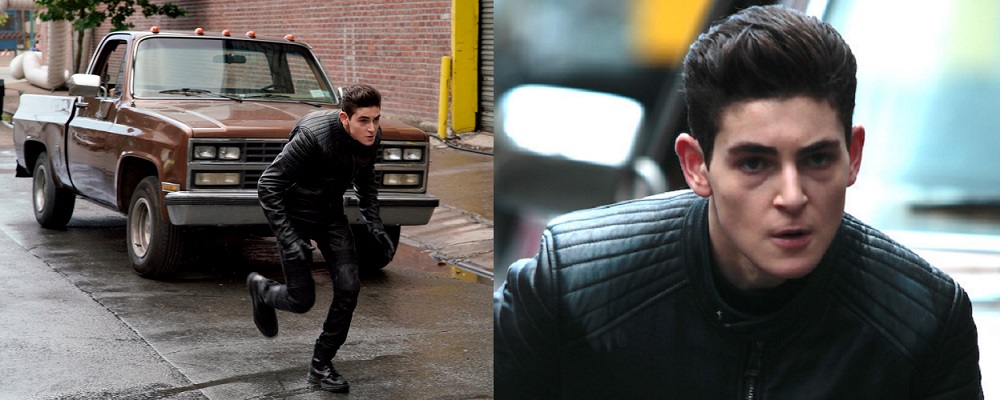 Bruce Wayne And The Citizens Of Gotham City
As well as the direction and realism of this show, another of it's greatest strengths is its ensemble cast. Seeing David Mazouz as he was in the pilot, and again as a young man in this new episode show his growth; not just in stature (he's a few inches taller than Ben McKenzie now) but as an actor. David and all his co-stars are in excellent form in this season premiere.
For me the real backbones of this series are Bruce, Alfred, Selina, Gordon, Oswald and Edward Nygma. The standout performances this week come from the brilliant David Mazouz, Camren Bicondova, Cory Michael Smith and Robin Lord Taylor. These wonderful talents never cease to impress, and Jessica Lucas shows us that hell hath no fury like a Tabby scorned. Ben McKenzie and Donal Logue are also great this week.
The one negative of this episode was that there wasn't quite enough Alfred for me. Knowing the excellent chemistry between actors Sean Pertwee and David Mazouz, however, I'm sure that this will be rectified over the next 11 episodes.
Conclusion
Yes dear friends, Gotham is back. This season promises to be even bigger and better than anything that came before. We will see strange alliances made and foes become allies. All of our old friends (and enemies) are back, but not all of them will still be with us by the time the series ends. We also seem to be on track to meeting new characters too, with talk of witches and the sound of jesters bells.
(This review was originally published on the Dark Knight News Website on January 4th 2019)