Review: 'Harley Quinn' Season 1 Episode 4 "Finding Mr Right"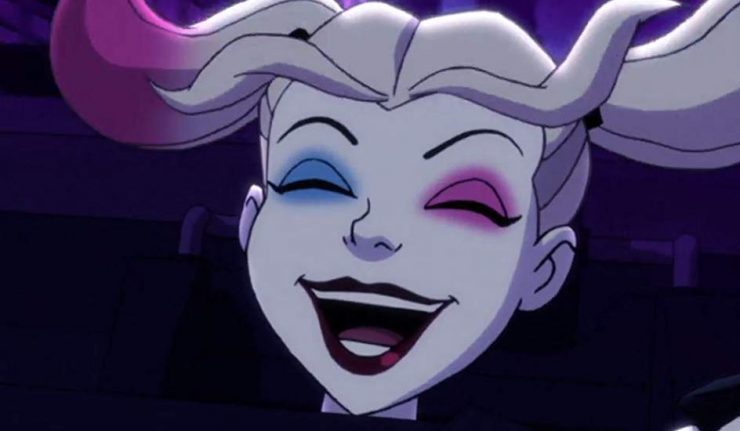 Writer: Jess Dweck
Director: Juan Meza-Leon
Starring: Kaley Cuoco, Lake Bell, Alan Tudyk, Diedrich Bader, Jason Alexander, Ron Funches, Tony Hale, Tisha Campbell-Martin, Sean Giambrone, Natalie Morales, Jacob Tremblay, James Wolk
"Finding Mr Right" launches us into another day in Harley Quinn's quest to be seen as a true villain. Her new crew in tow, she's in search of the one thing all good villains need… a nemesis. Not just any nemesis will do either, and with this goal in mind we take a step into the rocket launcher that is all of Harley's spontaneous plans.
I Need A Nemesis... Chest Hair Required
Harley and her crews have been doing their hardest to be taken seriously in Gotham as elite villains. It's an all-consuming thought for Harley, but it seems like no matter how successfully her plans turn out, they aren't getting any attention. Gotham has its eyes on who the Caped Crusader is fighting… so Harley puts out an ad for a nemesis. This brings King Shark, voiced by Ron Funches, to her door. He is a tech genius who tries to help get her more views, which leads to my favorite part of the episode.
Finding Mr. Right is hard as the only hit is from some part-time fling, so what does our lovely Harley do? She steals the mother-loving Batmobile! It's been a minute since a show has caused me to literally laugh out loud, and this scene got me. What's so perfect is how with Harley, there are no explanations required, these things just happen. It's unknown to her though that Batman is sending Robin, voiced by Jacob Tremblay, instead of going himself.
Super Special Guest
This episode has so many great moments, the laughs are there for the taking. Watching the Tawny Show unfold is worth the entire episode in itself. The banter between these characters is so fun, and watching the dynamics build between the crew is great. All the voice actors have really outdone themselves with these character translations, and the art team is absolutely great.

I fully look forward to the rest of this series and am fully on board with it being extended/renewed for a second season. It's clear that DC have hit the nail on the head with a show like this. "Finding Mr Right" has been one of my favorite episodes so far.
Conclusion
If Harley Quinn continues the way it has, then I can't say anything bad about it. It's a pleasure to watch and review this show, and we're only on episode 4. Each instalment has been a gem.
Images May Be Subject To Copyright