Book Review: 'Exploring Gotham City'
"Exploring Gotham City"
Writer: Mathew K. Manning
Art: Studio Muti
Review by Steve J. Ray
There are a few companies that, as soon as you hear their names, you know that you're guaranteed pure quality. Sideshow Collectibles, and McFarlane Toys spring to mind, and so does the wonderful Insight Editions. Whenever I get a press release from Insight, I know that I'm about to see something beautiful. When Exploring Gotham City was announced, back in January, the publishers proved that they, once again, are batting 100.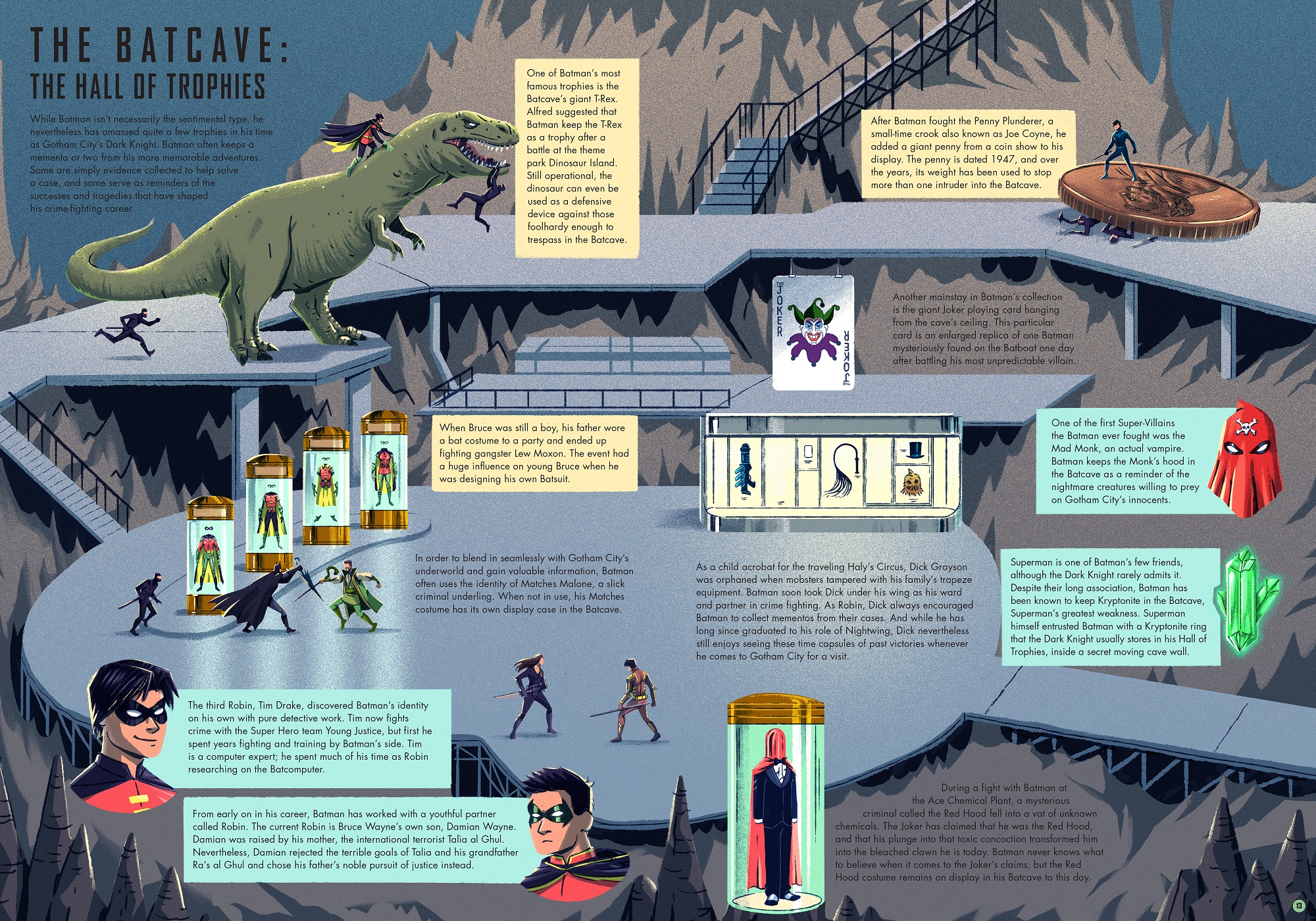 This book is a brilliantly written, and beautifully illustrated treasure that can be enjoyed by fans of all ages. How can I call a reference book, targeted at a mainly young audience be brilliantly written, you ask? Because of the effort, research, and storytelling that's gone into it.
Matthew K. Manning doesn't just write comics, he's a historian and expert on the medium. I'm a massive Batman fan, and many friends have dubbed me Geekipedia, or Nerd Yoda. Matt Manning, with all due respect, is all of this… and more. His knowledge of Batman lore and history leaps off these pages. This is the kind of book that will educate new fans, and also excite and delight old ones. After reading this book (something I've now done three times) I dug up the back issues he referenced, and relived classic adventures as varied as "The Court Of Owls", the origin of Jason Todd, "Year One", "Gates of Gotham", "Destroyer", "Dark Nights: Metal", and many more. This volume references tales from the 40s to the present, and details their impact on the Gotham City of Today.
Exploring Gotham City… In Depth
Studio Muti have delivered pure joy with their visuals. This book is big, it's a treasury sized hardcover that's beautifully bound, and lavishly designed. Each location covers two whole pages and, while the art may appear simple, there are little things placed within these vistas that are well worth looking out for.
Every building has a history, which so many of the colorful characters that populate Batman's world have helped form. Look out for tiny ninjas, creeping on rooftops. Watch as Batman, Robin, Nightwing, and others, engage them in combat, on the tour through the many levels of the Batcave. Try to spot Batman sword fighting with Ra's Al Ghul, or Talia facing off against Tim Drake, or Catwoman slicing through a window with her claws.
I don't know if all of this was scripted, if Studio Muti were just having fun, or if the truth lies somewhere in between… and I don't even care. It's all there, and it's gorgeous.
Look out for an upcoming interview with author Matt Manning, hosted by me and my DC Comics News Podcast colleagues.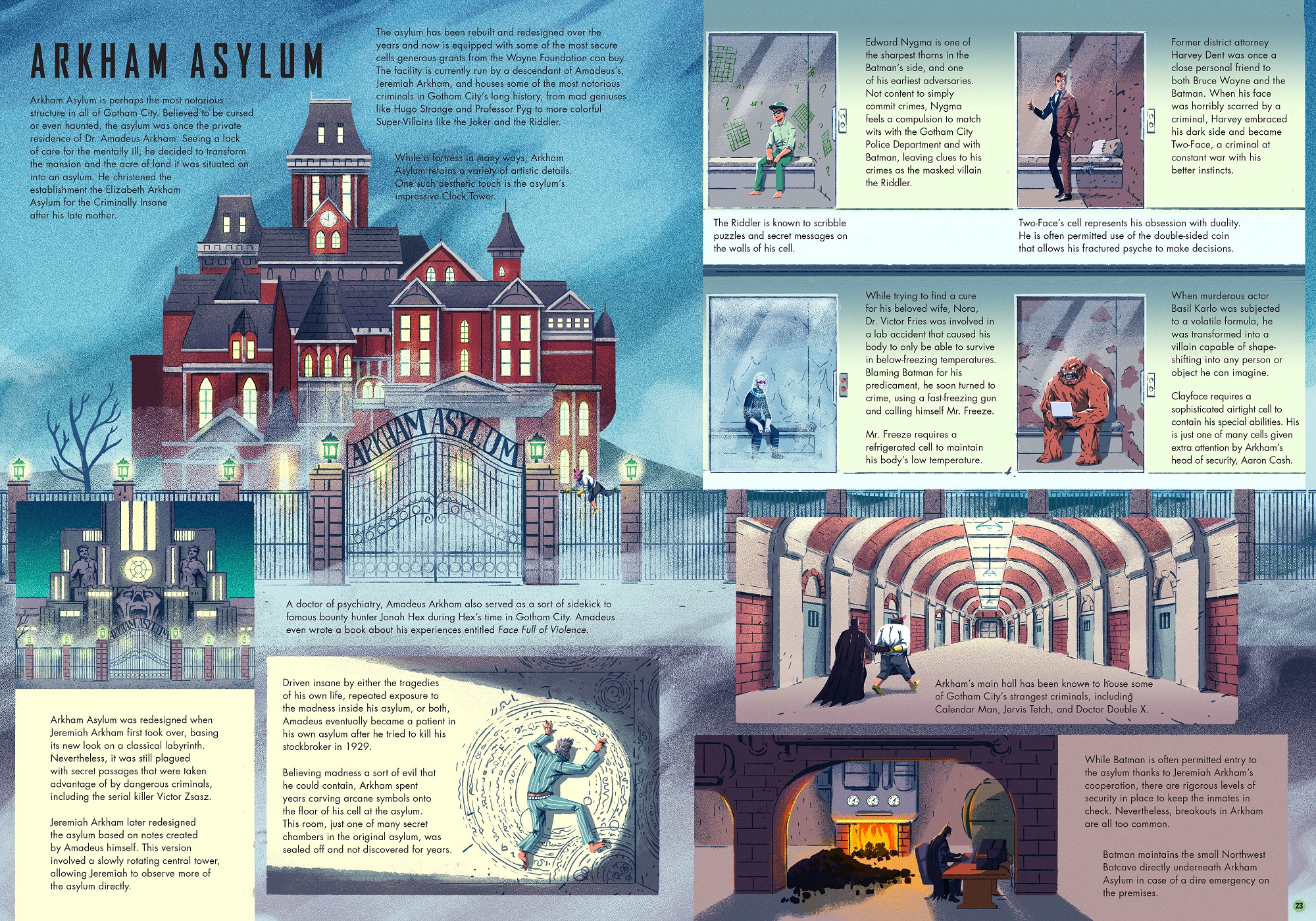 Conclusion
Exploring Gotham City is a reference guide, a storybook and a whole lot more besides. It's educational, lovely to look at and – most importantly – it's fun!
Insight Editions produce cookbooks, collectibles, greeting cards, stationary, games, guides, reference books, and much, much more. I cannot recommend them, or this wonderful volume, more highly.
If Fantastic Universes readers need any more incentive, the publishers have very kindly offered our readers an incredible deal. Exploring Gotham City will be released on March 16th, but you can order the book right now. If you do, and see anything else on the site you like (which is almost guaranteed) you can get 25% off THE ENTIRE ORDER by entering the code DKN25 at checkout!
Images Courtesy of Insight Editions