Review: Heroes In Crisis #7
"Heroes In Crisis" – Part Six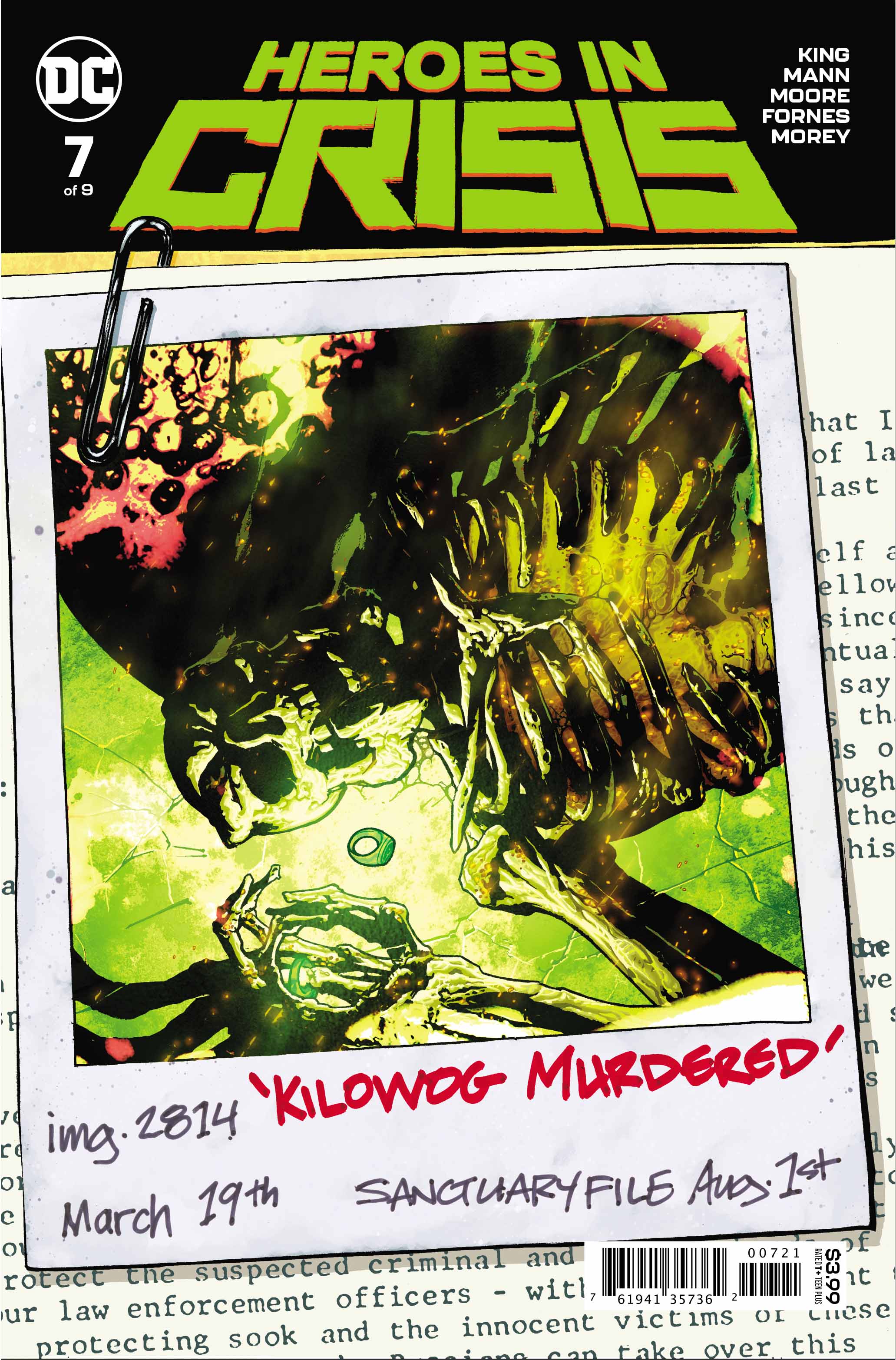 Writer: Tom King
Artists: Clay Mann, Travis Moore and Jorge Fornes
Color Artist:
Tomeu Morey
Letterer: Clayton Cowles
Review by Steve J. Ray
So… The Flash is the wrong age and Harley Quinn killed him? Or, Flash is dead, murdered by Booster Gold? Flash isn't dead at all? What in heaven's name am I talking about? These questions, and many others are not answered in this issue of Heroes In Crisis… and I'm loving it!
Wally West was clearly in a far more delicate mental state than anyone imagined. It seems that this once happy-go-lucky hero was at wits end, so much so that he'd lost the will to live. If he faked his own murder though, does this mean that Wally is responsible for all the other deaths at the Sanctuary?
Red, (And Being Beaten) Black and Blue
Tom King really is weaving one heck of a mystery, and showing us just how fragile the human psyche is at the same time. I commend him for the bravery of his scripts, and for tackling such a controversial and emotionally charged subject matter, in the pages of a comic-book. To those that still insist that comics are for kids and cannot convey important messages concerning mental health… think again!
I must also thank all the artists for their beautiful, if sometimes harrowing, art. Jorge Fornes Batman/Flash (Barry Allen) interludes are simply drawn, sharp straight and to the point, much like the characters he's drawing. Travis Moore's art is quick, kinetic and action packed, almost frenetic, much like Harley and Booster. His interactions, bringing to life King's brilliant character dialogue between Batgirl, Beetle, Harley and Booster, are gorgeous. Great work, gentlemen.
What can I say about the art of Clay Mann that I haven't already said in every review for this series? It's a shame that we only got one of his pages as preview art for this issue, because the double splash over pages two and three could make anyone wake up and smell the roses. Page 19 is stunning.
Every artist on this issue is amazing, and their art is lifted even higher by the astonishing colors supplied the incredible Tomeu Morey. The aforementioned pages 2, 3 and 19 in particular.
Clayton Cowles is also on great form. From little musical notes to show us that Harley is singing (and what a great song it is) to sound effects, monologues and dialogue, this talented artist delivers, issue after issue.
Conclusion
Heroes In Crisis #7 isn't perfect. I'm finding the pace slow, and the Batman/Flash interludes, while entertaining, weren't totally necessary. I had a similar issue with the Gnarrk sub-plot last month. We got more time with Wally West this time, but I could've done with more still.
There are only two issues left now, and I'm more desperate for answers than ever. Page 23 is killer!
Images Courtesy Of DC Entertainment
(This review was originally published on the Dark Knight News website on March 27th 2019)